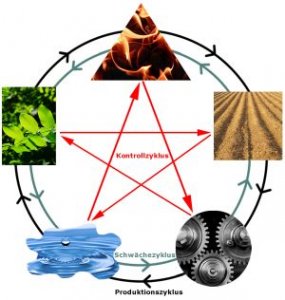 The five elements, Chinese 五行 wŭ xíng, literally translated means "the five changing phases". It is a Chinese theory to describe nature. Everything in the world can be assigned to one of the five elements representing the five different material manifestations of qi. These are fire (火 huŏ), earth (土 tŭ), metal (金 jīn), water (水 shuĭ) and wood (木 mù). The elements are related to each other in a relationship of producing, weakening and destroying.
In the productive cycle the elements produce each other. Water let grow wood, wood creates fire producing earth (ash). Earth brings metal to light and metal produces water.
In the weakening cycle, an element is reducedin his power by the preceding element. So fire burns wood, wood absorbs water, water weakens metal, metal depletes the earth and earth dampens fire.
In the controlling or destructive cycle the elements control each other. Each time one element is skipped, e. g. water extinguishes fire, fire melts metal, metal chops wood, wood exploits the earth and earth polluts water.