The traditional Chinese Calendar has several names:
Farmer's almanac (農曆 nónglì)
Imperial calendar (皇历 huánglì)
Xia Calendar (夏曆 xiàlì)
万年曆 wànniánlì (Ten thousand year calendar, comprises 100 years)
An excerpt of the wannianli for one year is called tong shu (通書 tōng shū).
It is a mixture between solar and lunar calendar. Every year, month, day and double hour is assigned to one of the 60 JiaZi (甲子 jiăzĭ), i. d. a combination of the ten heavenly stems ( 天干 tiān gàn) and the twelve earth branches (地支 dì zhī).
The ten heavenly stems are derived from the yin and yang polarities of the five elements: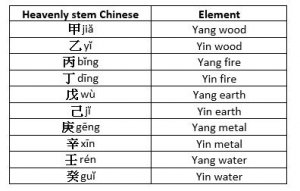 The twelve earth branches also have yin and yang qualities: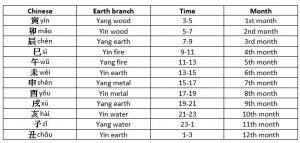 Yang stems can only combine with yang branches and yin stems only with yin branches, from which results a sum of 60 pillars (sexagenary cycle).
According to the cycle of five elements, the yang aspect of an element follows on its yin aspect and then transits to the next yang aspect of the element which it produces beginning form the first combination of the sexagenary cycle JiaZi (i. e. yang wood on the rat), followed by the second combination YiChou (i. e. yin wood on ox) and the third combination BingYin (Fire tiger) etc.
The sexagenary cycle constantly repeats itself on the level of years, months, days and hours in the following order: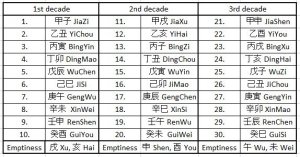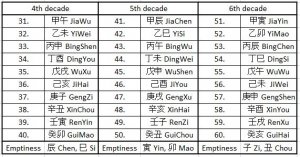 In the Chinese calendar, the year doesn't start on January 1st, but normally on February 3rd or 4th. The first month is always the tiger month and the year ends with the ox month whereby the heavenly stem on the respective earth branch repeats itself cyclically.
Example: 2020 is the year of the metal rat, i. e. the heavenly stem Geng is placed on the earth branch Zi. According to the sexagenary cycle, the year 2080 will be a metal rat year again. This year starts on February 4th with a fire ox day (DingChou) in the earth tiger month (WuYin) and will end on February 2nd 2021, a metal snake day (XinSi) in the earth ox month (JiChou). 2021 will be the year of the metal ox (XinChou) etc.
Related Entries